Dover Big Local organises and hosts events and training at the Hub, regular forum and meetings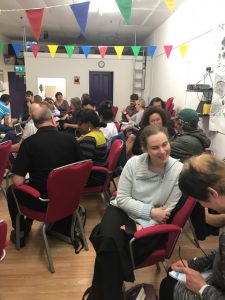 DBL 'Have your Say' meetings
Network Forum – 9th June 12noon – 2pm in the hub
Networking lunch – 12 noon – 1pm,
1pm – 2pm Carers in Dover and Porchlight will present and then round table updates.
Individuals, community groups and organisations welcome.
Evening Event – Wednesday 14th July – 7pm – 9pm in the Biggin Hall (behind Dover Town Council offices).
A chance to catch up with DBL project progress and other community initiatives. All Welcome.
Training Coming up…….
June
Thursday 15th June – Basic Food Hygiene Level 2 – in the Hub FREE
Emergency First Aid – TBC – In the Hub FREE
Building Confidence & Self Esteem.  Understanding others and Self Personal Development – FREE to those on any benefits-  in Biggin Hall (near to the Town Hall) Week 12th – 19th June
July
Job-searching in the Digital Age (computing skills for employment)   In the hub – FREE to those on any benefits.  July 6th, 13th, 20th & 27th
For further information and to book contact us on 01304 449385 or email outreach@doverbiglocal.org.uk