Hello and welcome to the Dover Big Local Hub Blog!
#7 June 27th 2018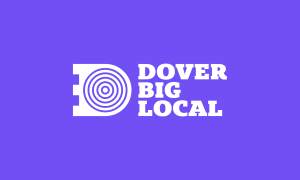 #6 June 22nd 2018
This month has absolutely flown by! Our new initiatives have proven very popular and we have more in the pipeline for July. More details in the next blog.
For the last week of June, 25th-30th, we have the following:
Monday 25th
Join us at the Hub for our second 1940s-themed Tea and Cake Social, from 10-12. Enjoy tea and cakes on vintage-style tea services with music from the era.
Luke from Dad's House will be available from 10-12 with advice on budgeting, mental health support, family law advice, buddying and coaching, foodbank and housing issues. You can drop in to see Luke without an appointment.
On Monday afternoon Digital Xtra will again run from 1-3. This is also a drop-in session to help people with online job searching, form filling, applications and day to day computer/internet use. It is quieter than the Tuesday Job Club and there are advisors on hand to help you.
Tuesday 26th
First Aid at Work level 3*
At this week's Job Club and Welfare Advice Clinic, Live Well Kent, Porchlight, the Community Warden, Shaw Trust, Dover District Volunteer Service and Southern Housing will be available, as well as the usual job search and internet support.
Wednesday 27th- Hotdesking Day.

If you are a community organisation looking for space to meet your clients, please contact us!
Thursday 28th
DBL Stitching Group will meet from 10-12 on Thursday 28th. The group work on a variety of community projects each week.  Beginners as well as very experienced knitters and crocheters are welcome. The group is free and and informal – just pop along!
A Prince's Trust advisor also will be available from 10-12 on Thursday.
Ritika's Bollywood Dance group meets in the Hub at 6. This week they will be rehearsing moves for their performance at the Multicultural Festival on Saturday 30th June. Don't be daunted, though – have fun and get fit for only £3.
The River Spirit Workshop is on again from 7:30-9pm. If you can spare some time to use a sewing machine and cut up fabrics that will become Lomea the River Spirit, please come along.
Also on 28th June the Repair Cafe will once again take place from 6:30-8:30pm in Biggin Hall. Fixers available include a teddy bear doctor and a plant doctor! Bring your clothing, electrical and ceramic items for repair and enjoy tea and biscuits while you wait.
Friday 29th
We are sorry that our Friday Coffee and Karaoke session is not running at the moment. Details of new activities will be available next month.
Saturday 30th
Dover Big Local will have a stall at the Multicultural Festival in Pencester Gardens from 12-4pm. Visit us to find out what we are about and how we can help you help your community.
*We are still enrolling for
This blog is also available as an audio blog on Dover Community Radio.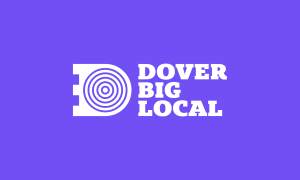 #5   12th June 2018
As expected, June got off to a quick start!
We have several new initiatives, and more in the pipeline.
The first is a fortnightly event, a 1940s/1950s Tea and Cake Social. This takes place on alternate Mondays from 10-12. Join us for a vintage style tea party, enjoy music of the era (and the Hub staff dressed up in 40s/50s outfits!), and meet new people! The event is aimed at anyone who is interested in the era or who just wants to enjoy a cuppa & cake served on a retro tea service! Some photos of the launch event are below this paragraph. Please come and join us at the next one on 25th June! No need to book or reserve – just turn up!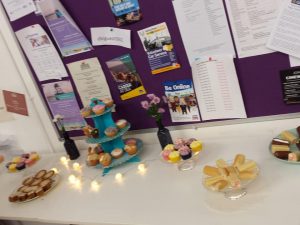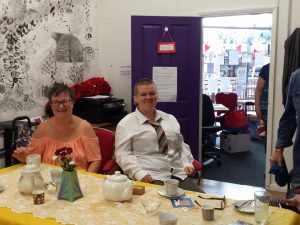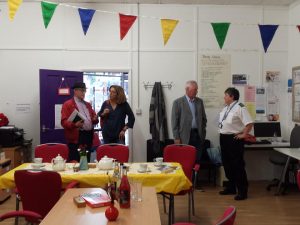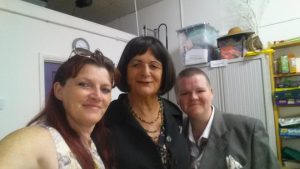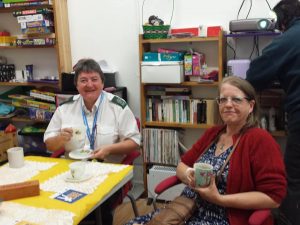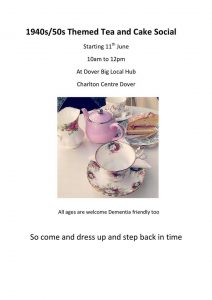 Our second new initiative is an add-on to the Job Club that runs on Tuesdays. This has now grown so big that it is difficult for staff to give everyone the help they need so we have started the Job Club Digital Xtra on Monday afternoons from 1-3. This is a weekly drop in session for those who lack confidence with online job searches, applications, form filling and digital CVs. Digital Xtra is delivered by Southern Housing, supported by Hub volunteers, and hosted by Dover Big Local. No need to book and, like the Job Club itself – the service is free!
Training continues with the last courses of the current cycle already underway. We are announcing new dates as we get them, and will produce a new course schedule when we have full detail. Watch this space! It was confirmed today that Food Safety Level 2 will run from 9-4 on Tuesday 26th June and another CSCS course will run on 26th and 27th July – again, from 9-4 both days.
We are very excited to be hosting the Pop Up Business School Dover for the second year. This is an intensive, week-long course that looks at all the necessaries for self-employment, funded jointly by Dover Big Local and Dover Town Council.
This week we are pleased to announce the return of Ritika's Bollywood Dance class (6.30-7.30 on Thursday evening £3 per person) and the third River Spirit Workshop from 7.30-9pm. The focus this week will be on lots of cutting in preparation for all the stitching and sewing!
The Hub will be open on Thursday evening while these two events are on so pop in!
Our School Uniform shop is busy and will only become busier as pupil finish for the summer. Any uniform that you would be happy to send your child to school in is gratefully received at the Hub during opening hours, which are 10-4 on weekdays.
Lastly, our collaboration with Dover Community Radio http://www.dovercommunityradio.co.uk/# continues with a shorter audio blog coming out weekly and  short reports on events and initiatives supported by Dover Big Local! The first blog and reports will air very soon.
For further information about anything mentioned or to suggest new ideas please pop in to Unit 18 in the Charlton Centre on the High Street, phone us on 01304 449385, email outreach@doverbiglocal.org or visit our Facebook page https://www.facebook.com/doverbiglocal/
That's all our news for now – but be sure to watch out for the next Blog!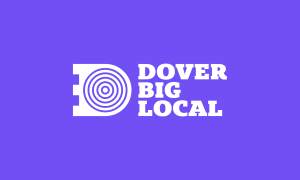 #4   29th May 2018
Hello Dover!
Wow – this month has brought a real burst of activity to the Hub!
On Friday 11th the Hub played host to local MP Mr Charlie Elphicke. Shaw Trust and Porchlight were working from the Hub that day, the weekly Friends Together group were doing karaoke – and yes, Mr Elphicke was persuaded to take the mic!
In the first half of the month we were busy preparing for not one, but two firsts – we held a Health and Wellbeing afternoon called Well You, which was to show what the Hub has to offer in this area. There were tasters of vegan and gluten free food, we had One You Lifestyle Advisors helping people with general health checks and smoking cessation advice. The Shaw Trust, Porchlight and Live Well Kent, and Dover Community Shed  were on hand to discuss the wellbeing services they offer.
Unit 16 was our mindfulness zone and in the atrium our first collaboration with Dover Community Radio took place, with two live presenters and a local singer. Watch out for the next one! Here is a photo round-up of the event.
Coincidentally, that week was Mental Health Awareness Week, Coeliac Disease Awareness Week and Vegan Week!
Our Community Development Officer Iva has begun two initiatives for the Roma community. She has worked hard to find out what the community needs and begun to deliver it. Young Roma enjoy the weekly after school club while their parents learn on the Healthy Cooking course. It ends with everyone sharing the delicious meal on that evening's menu!
The next event is the Open Day at the Hub. This will be on Wednesday 30th May from 11-2. It will be less of a celebration than Well You was, but a great introduction to who we are and what we do. Discover groups that run at the Hub, find out about grants available for projects to benefit the community and if you have ideas – bring them to us, to discuss how we can help make them real!
We continue to work in partnership with other community organisations. TWO Repair Cafes are being held this month – Kids' Repair Cafe  on 27th for toys, teddies, bikes, skates, scooters and skateboards to be fixed up for another summer of fun!; and the monthly meeting on 29th will be for electricals, ceramics, textiles, teddy bears and plants;
June will be busy, too – training continues on with Introduction to Retail from 13th and Confidence Building from 14th, and we are launching a fortnightly Tea and Cake Social for the over 50s starting on 11th June.
Watch this space as the Dover Big Local summer season hots up!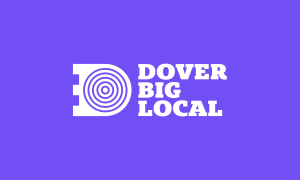 #3   30th April 2018
30th April 2018
We've had a very busy time recently!
On Friday 13th our Networking Forum brought representatives of 25 community and charity organisations to the Hub (Forum attendees 13th April 2018.) For some, this was their first visit to the Forum. We're sure it won't be their last and encourage as many organisations to join in as possible. Contact us for details.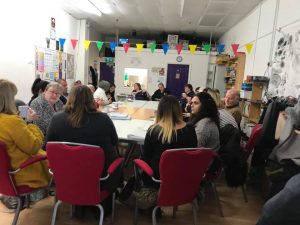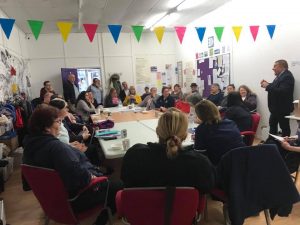 We have hosted a number of training events, including First Aid level 3 and Assertiveness; and Mental Health First Aid for front line staff at Dover Big Local, Emmaus and East Kent College.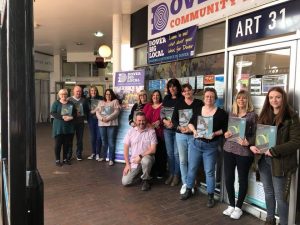 Tuesday Job Club and Welfare Advice Clinic continues to be very supportive to those seeking help with their job searches and benefits, housing, legal and welfare advice. Here is the   Copy of Advice clinics Rota.
Last Tuesday, 24th both the Volunteer Skills Day and the Repair Café took place in Biggin Hall. The next Repair Cafe is during half term and will focus on kids' toys – details here.
Work will soon begin on Unit 16, which Folkestone Mind will take over to offer their services; some of which will be in conjunction with Dover Big Local.
What's coming up?
The week ahead
Today (Monday 30th) we have had Dad's House in, Healthy Eating (fresh vegan/gluten free on a budget) and representatives of Dover District Council came to discuss a potential community development partnership with us.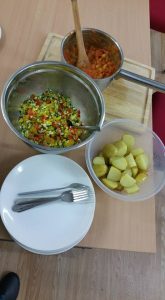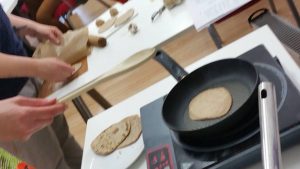 1st – 4th May:
Tuesday 1st –  Job Club and Welfare Advice 10am-4pm, with 7 professionals in to help you!
Wednesday 2nd  – Hot desking in the morning, Healthy Cooking in the afternoon.
Thursday 3rd – First Aid training at Level 3 9am-4pm. Full, but please contact us to go on the waiting list for the next course; DBL Stitching Group 10-12. Details of their fundraising and other activities are here DBL report april 2018
Friday 4th – Friends Together social group: chat, drink tea, play games, do crafts, sing karaoke.
We are excited to announce 'Well You', an afternoon devoted to the mental and physical wellbeing of Dover residents. It is free to attend and will take place on 16th May from 2-5pm.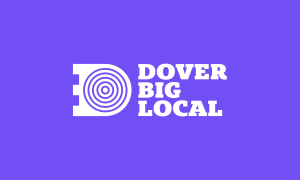 #2 11th April 2018
11th-20th April 2018
The Easter Fun Day organised by the Kent Wildlife Trust and Dover Big Local was a success, despite the rainy weather; as you can see in the photos!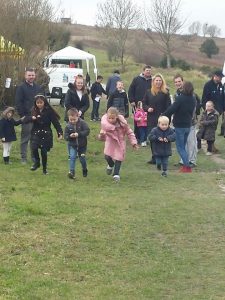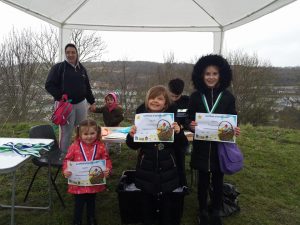 Last Thursday Ritika began her Belly Dancing/Bollywood Dancing classes. How often is something that's so much fun so good for you?! Join her on Thursday evenings at the Hub, from 6pm. £3pp.
Today we have been discussing plans for our Well You session which will take place at the Hub in May – details will follow soon! There has also been a steady stream of people in this week for  one-to-one support with Shaw Trust and Talent Match.
This Friday 13th is our bi-monthly Networking Forum. All charity and community groups are welcome – tell us what services you're offering and find out how others can help you! We begin at 12 with a buffet 'networking' lunch and from 12:30 the speakers take the floor. Contact us for more information/to register!
Next week (16th-20th April) we have Dad's House in on Monday, the Welfare Clinic Advisors on Tuesday are from Live Well Kent (Porchlight) and Southern Housing. We also have First Aid at Work Level 3 running on Tuesday in Biggin Hall and Assertiveness training on Wednesday from 12:30. Contact us for information!
Last, the third Repair Cafe is on again in 2 weeks – we look forward to seeing you there!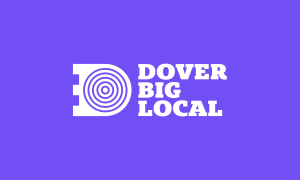 #1 26th March 2018
The Hub has been running for 2 years as a training, meeting and community venue. We host a number of groups that provide weekly community services; and courses and groups – there is so much happening that we want to keep you informed on a weekly basis.
The highlight of this week has been the second Repair Cafe with Future Foundry, Transition Dover, Dover Community Shed and Circular Kent. Around 30 people brought items that have now been saved from landfill – and saved their owners money!
We are closing at 4pm on Thursday (29th March) for the Easter weekend.
On Saturday we are joining Kent Wildlife Trust and the Dover Connector Programme at High Meadow Nature Reserve for  Easter Fun!  from 11-3.
The Hub reopens on Tuesday 3rd April for Job Club and the Advice Clinic 10-4, with representatives available from
Live Well Kent (Porchlight )
Housing Options (DDC)
One You Trainer
Town and Country Housing
Pam Brivio (District Councillor)
Universal Credit Advisor
Southern Housing
DBL Stitching Group meets again on Thursday 5th with their new spring projects and on Friday 6th there's karaoke and a singalong from 11 am, with crafts, chat, drinks and biscuits from 10-12:30.
Drop in or contact us to find out more!