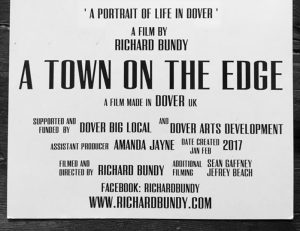 Dover has a rich cultural heritage with many practicing artists, musicians and a thriving drama community.
As part of Dover Big Locals commitment to the Arts a focus group called Dover Big Local Art 31 has been formed, bringing together people of all ages and art practices to share ideas, organise events and  network. Regular meetings are held. To find out more contact clare@dadonline.eu
Dover Big Local also has a gallery space at the Hub with a changing temporary exhibitions programme. Artists can book display space. Contact: Sam at samcapell@live.com
DBL Art 31 Forum News
PROJECT UPDATES AND OTHER NEWS
Paul Dagys has started a live-music group called Dover Beach Buoys. They meet every 3rd Monday of the month in the Louis for an open session called Good Vibrations. Generally the group perform at 8 and then from 9 there is an Open Mic session open to all. The group is looking for new people to get involved.
The Dover Beach Buoys / Good Vibrations event will usually be on the third Monday of the month, but due to a previously scheduled event at the Louis, This month will be 8pm Monday March 27.

The Beach Bards now meets the second Tuesday of the month, next meeting is March 14, at Salle Verte coffe shop, 7pm
ART31 Gallery: Sam and Christian are now running this together. Email art31gallery@hotmail.com if you are interested in showing work. And please do support the gallery by going to the open nights. There is a Facebook page which I would urge you to "like" @dblgallery / https://www.facebook.com/dblgallery/?ref=br_rsDover Arts Development is starting a new project with young people and is planning to show some of the work in the gallery.There is also a collaborative project coming up with Threads Kent.
Joanna Jones updated the group on the background to the appearance of THE TABLE now on Charlton Green, by Morrisons. This oversized table was made by Sculptor Anthony Heywood together with Uwe Derksen as a homage to Brancusi's Table of Silence and as a monument to peace. Furniture made by Cormac is currently awaiting installation and there are some ideas around the introduction of a planting scheme together with Transition Dover. The idea is for THE TABLE to become a place for performance, poetry…and other events.
More info: http://www.dadonline.eu/projects/the-table/We discussed the idea of creating an explanatory plaque and will return to this once all the seating is installed.
Louisa Love introduced the 100 miles for 100 years project and has invited people to get involved. The idea is to create a trail in Dover which would commemorate local ww1 history through stories and family histories. http://kentww1.com/100-miles-100-years/
MUSIC FOR CHANGE: http://www.musicforchange.org
Music for Change brings culturally diverse music and dance into the classroom and the community.
Gerry Sterling introduced Music For Change and discussed a project they would like to bring to Dover which involves setting up a community choir. We discussed ensuring there were adequate lead-in times and attendance at community events to publicise the project and encourage people to get involved: e.g. Dover Regatta, Dover Together, etc. They are also planning an Early Years project.
Gerry will get in touch with Trevor at the DBL hub to discuss in more detail and Clare will provide contact details for the Port of Dover and the Samphire project (Dover Together).
All present really liked the idea and would support a bid to DBL.