Blog #17   July-September 2019
Hello again Dover!
Just for a change, we have been very busy bees this summer!
Before we tell you about that, let's talk about the Big Urban Fete.  It's this Saturday from 10-4.30 in Pencester Gardens and brings you a big variety of stalls, music & entertainment, and food.
Our duck race will be at 3.30 – we have so far sold 150 of our 200 ducks so hurry if you want one! They are £1 each and there's a £50 prize for the winning duck. The remaining £150 will once again buy staples for the food bank for the winter. Tens of prizes have been donated by local businesses. Please pop into our Hub at unit 18 Charlton Centre or buy one from our gazebo on the day!
Looks like it will be sunny and warm, so walk down to Pencester and enjoy the day with us J
Summery Summary
We have continued to be active in the community. In July Co-Innovation paid host to Kent's Police and Crime Commissioner Matthew Scott, who came to open the new Pie Factory Youth Hub. At the same time, the Pop Up Business School was running the intensive 2-week course in the events space.
Also in July our annual AGM saw Martina White step down as Chairman and Anita Luckett step up to replace her. 4 new members were elected to the committee, bringing the number up to 10. Why are we telling you this? Because you too could become a committee member next year! You must be over 18, resident in Dover, and willing to have a say in Dover Big Local's Yearly Development Plan.
August was similarly busy with our stalls at the Regatta and the Tower Hamlets Family Fun Day, family activities in the Hub, and Dover Big Local's first Beach Clean in conjunction with Dover District Council, Community Caretakers, and Plastic Free Dover.  At Co-Innovation, a Masked Ball raised £500 for Demelza.
Autumn Wellbeing
Our uniform shop is absolutely buzzing, as was the Swap Shop (next event in October, date to be announced soon).
Singing and music groups have begun on Wednesdays, with Nordoff leading the workshops. These are free to attend and you don't need any experience or ability to sight read. Just come and enjoy it! Singing is 10-11 and the music group is from 11.30-12.30, both on Wednesdays.  Bingo has resumed from 10-11 on Friday mornings and the next Cooking with Penny session will be on Monday 30th September from 1-2.30pm in the Hub.
Lastly, there's a Big Coffee Morning for MacMillan on Friday 27th September from 11-1 in the Hub.
Until next month!

Blog #16   June 2019
Hello Dover, and welcome to June!
Last month was so busy we didn't get chance to put out a blog post!
We were working on two events that were both on Saturday 1st. Our first ever Big Lunch on the Roman Lawn was a success as families gathered to picnic together and make grass caterpillars, seed pots and wonder at the Bug Man's beasts. Thanks to Transition Dover Transition Dover for supporting the event!
There was also a Family Fun Day at Co-Innovation with games and activities for all ages, as well as the café, & market and nearly all the shops were open – including the newest one, which held its official launch that day! A video is available here here and there are lots of photos on the main Co-Innovation page.
The next event will be this Saturday in the Charlton Centre  atrium. Join Emma if you have an invisible illness (or several) and would like a reason to come out to meet others who understand – and enjoy decorating cakes while you chat! This will run every second Saturday from now on, unless you hear otherwise. Please like the page for updates and of course you can message Emma directly here here with any queries/suggestions for the group.
There are several new firsts at Co-Innovation – First, a brand new Indoor Table Fair in Dover!
Starting Sunday 9th June then every 2nd Sunday of the month. 9am-2pm FREE entry! FREE carpark opposite! Stalls just £5 each. Contact the market manager Jan_stembrook@aol.com or call 07729967206 to book a space. Stembrook, Dover, Kent CT16 1PF
Then on Wednesday 12th a Carers event and on Thursday 13th 'Secret Dover' a book signing event with local author Jeff Howe.
Are you a parent of a child with ASD? On Monday 10th and 24th June, and 8th and 22nd July our informal support group is on from 10-12 at the hub. It's free and there are no obligations. Contact
Also on Mondays we have paper flower making sessions from 1-3. Relaxing and social, the aim is to make as many as possible for Dover Pride 2019
On Friday 14th June we will host another Community Networking Forum at the Hub from 12-2. Emails will go out soon but you can also register your interest.
Luke, previously of Dad's Club and now of United Families UK, will be available on 17th June and 1st & 15th July from 10-1. Contact  Contact to make an appointment.
Weight Management sessions are on Thursdays, with 1-1s in the morning (10-12) and the group from 1-3. Please note that while we host this, you must sign up with One You Kent.
Job Club and the Welfare Advice Clinic are on every Tuesday from 10-2 and the next session with Kent Coast Volunteering: Dover will be on 18th June.
The very popular Swap Shop returns on on 22nd June from 11-1. Details.
Dover Big Local's AGM will take place soon and we are keen to hear from Dover residents. If you would like to vote please first register here and you will receive an email when the date is announced.
Finally, we do hope you will join us at the Dover Together Multi Cultural Festival this year on 29th June! Event details are here.
If you are interested in volunteering with us at events or in the Hub please message Linda at outreach@doverbiglocal.org.uk.

Blog #13   March 2019
Hello Dover!
February saw a big focus on well-being. The Valentines Disco for under 12s was a big success and another one is being organised for Easter; our first Health and Well-being Expo held at Co-Innovation had a big mixture of conventional and alternative schemes, treatments and products for sale. It was so positive that it will become a regular event – watch this space for details of the next one!
The Networking Forum was very well attended and the info share was very active! The next one will be on 12th April and emails will go out soon. Contact us to register your interest.
The next Swap Shop is on Saturday 23rd March from 11-1 at the Hub. Clothes, toys, books for babies and kids!
Our Job Club and Welfare Advice Clinic runs as usual on Tuesdays, though with shortened hours – now from 10-2. Support with CVs, cover letters, online applications and specialist help for those with disabilities and mental health problems; Welfare Advice includes mental and physical well-being, support with housing and benefits issues, the opportunity to talk with your Community Warden and local councillor and be signposted to other services that can help you more directly.
The March April 2019 training schedule is here. Contact us to register.
Hub timetable for March 2019 is here.
Co-Innovation (the old Co-op) continues to grow. The Thursday market has expanded to Saturdays, also from 10-4; and it is possible to book for Mondays-Wednesdays and Fridays as well. Please contact Kay Marsh on 07719 521557 or kay.marsh@redzebra.org.uk. As of last week we have a play area for under 5s which is free to use, and a bouncy castle for 5-11 year olds which is 50p for 5 minutes. *Please call ahead to avoid disappointment* Also please note parents/guardians must be responsible for their children are the responsibility of the parents/guardians, and no food or drinks are allowed in the play or carpeted areas.
There are now 23 businesses open or in various stages of readiness. 8 are officially trading already, including The Coffee Shop from 10-3, Monday- Saturday  – pop down and see for yourself what's going on!
To follow its progress and keep up to date with events, please like the page!

Hello Dover!   Blog #12, February 2019
2019 has been extremely busy for us so far!
Our training for those on a low or no wage is once again underway. All courses are fully booked and we are looking into providing more soon. Watch this space!
We have also planned a Valentines Party for youngsters. It's on 15th February from 6-8pm, just £1 per child under 11. Parents go free! Disco, games and soft drinks are included in the price. A tuck shop will also be available and the café will be open for hot drinks.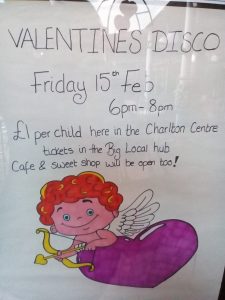 *This is a ticketed event only – there will be no entry on the door without pre-bought tickets! They are available from the Hub between 10am and 4pm, Monday-Friday.*
Also on Friday 15th, our Networking Forum will take place. This is for service providers in the area to meet and learn how they could work together, over a buffet lunch. Please mail outreach@doverbiglocal.org to register.
A short Mindfulness Meditation course began today. There are still a couple of spaces available for this small group introductory course so please contact us us to find out more and register your interest!
Our Job Club and Welfare Advice Clinic run as usual on Tuesdays, though with shortened hours – now from 10-2. Support with CVs, cover letters, online applications and specialist help for those with disabilities and mental health problems; Welfare Advice includes mental and physical wellbeing, support with housing and benefits issues, the opportunity to talk with your Community Warden and local councillor and be signposted to other services that can help you more directly. Starting today, SpeakUp CIC join the Clinic on a fortnightly basis, ready to assist those who want guidance to improve their mental wellbeing.
A huge amount of work is going into developing the old Co-op, now known as Co-Innovation. There's a weekly market on Thursdays from 10-4, 7 businesses open, 5 being built, and more under discussion. To follow its progress and keep up to date with events, please like the page.

Hello and welcome to the Dover Big Local Hub Blog!
#11   16th January 2019
Happy New Year Dover!
Hard to believe we're half way through January already… we started as we mean to go on, with a huge clear out and reorganization of the Hub, as you can see in the photo.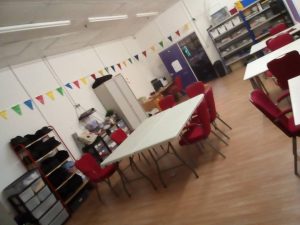 Our normal timetable has resumed with a few extras. We are keen to help reduce isolation and loneliness across all ages and backgrounds, and so we have introduced a few "Coffee & Chat" sessions. These are absolutely free to attend and we are keen for the sessions to be what people want them to be, and to be self-run  – so if you would like a book club, board games, talks (for example) – don't be afraid to make suggestions! Come on Mondays from 10-12 or 1-3, Thursdays at the same times, and Friday afternoons from 1-3.
We are hosting One You weight management sessions on Thursdays. If you are interested in these free sessions, you must contact One You to self-refer. They are not drop-in sessions!
Free training begins once again in February (details) – please visit the Hub to book.
Co-Innovation has been growing at quite a pace! We have 2 shops open and trading already and another two opening imminently. This week is the beginning of the weekly Indoor Market. It's on from 11-4, with around 20 stallholders offering drinks and food, gifts, clothing and services.
Saturday sees another Swap Shop for babies and children's items, from 11-1 at the Hub.
We have a whole year of children's fun planned! The first event is our Valentine's Disco. Tickets are on sale already – just £1 per child. It's on 15th February from 6-8 in the Charlton Centre. Pop into the Hub to buy yours!

#10   18th October 2018
As our beautiful Indian summer beings to fade, and October finally becomes chilly, staff and volunteers at the Dover Big Local hub have been busy planning for half term week. Join us for a FREE programme of children's events with a Halloween theme. There is also a chance to get crestive with DBL Art 31's Big Draw activities. Big Draw is a national festival of drawing, and every year we run events so Dover people can join in. You don't need to be a great artist – just come along and have some creative fun. Our latest food hygiene have been well attended – please do let us know if you would like to be booked on to future courses.
Work on the old Co-Op store, as it is transformed into Dover Big Local's Co-Innovation centre is gathering pace, and we will be updating you soon with out plans for the leisure side of the building. We are talking to the first group of start-up businesses that want to take on work spaces in the business incubator area about how they want to operate. If you are interested in starting a new venture in Co-Innovation please do get in touch with us – we would love to hear about your plans and see how we might work together.
#9   August 15th 2018
Hard to believe we're half way through August already – and half way through the school holidays!
Kids' Club has been going well, with 4 events so far and another 3 planned. Next week's session! [link]
We have a fairly continuous flow of uniform being donated and bought. It's never too late to bring down what your child no longer needs, or to find something for the coming term.
Wellbeing has been high on the list, with our Diabetes and Coeliac Self Help Group running every Thursday from 1-2:30 pm, Healthy Eating on Wednesdays, and light exercise for group members to complement both sessions.
Our Job Club and Welfare Advice Clinic continues to run on Tuesdays, with support from Southern Housing, Shaw Trust, Live Well Kent / Porchlight and a wide range of community organisations. Wednesdays are more low key, with Hub staff and external providers hot desking: individual pre-booked appointments are available with Shaw Trust and CXK, healthy eating/One You in the afternoons. Thursdays are mainly about well being with DBL Stitching Group meeting from 10-12, and health peer support group 1-2:30 followed by bicycle maintenance 2:30-3:30. Fridays are mixed – our Friendly Friday session has restarted with bingo from 10-11 and karaoke from 11-12 each week. Refreshments and crafts are available to all from 10-12. In the afternoon pre-bookable appointments are available to discuss funding and start up opportunities.
In between all of these we're working on our Urban Fete 2018, the half term activities, new courses and groups. We would like local volunteers who could lead jewellery making classes and light/chair-based exercise for us to get in touch!
Last- but so far from least – there is a lot of news about the Innovation Warehouse! So much so, that it now has its own dedicated space on our website. There's been a lot of interest and input which is reflected in the design phase and it will be taking shape physically in the coming weeks! Follow the latest news as it happens!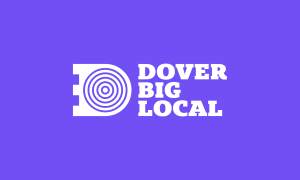 #8   July 24th 2018
Hello Dover!
We weren't joking when we said things are really hotting up here at the Hub!
July got off to a sizzling start with news spreading of the Innovation Warehouse, an exciting new initiative between Dover District Council and Dover Big Local. It's a business incubation opportunity for new businesses to 'test the waters' before launching in their own premises!
A number of enquiries have already come in regarding the types of spaces available (studio, office, leisure and retail) and we urge you to come into the Hub to discuss your ideas. The plan is to open in October and internal works will take place between now and then to ensure the right mix of spaces is available. To have your say, please register with your ideas.
The first week of July saw the Hub once again hosting the Pop Up Business School, an intensive course taking entrepreneurs from zero to launch in one week. More than 40 people had crash courses in marketing, web, SEO, legal & tax necessaries – and lots of fun – in sweltering conditions. There will be on-going support for course participants to help them keep going. Its success will  be celebrated as participants graduate on Wednesday 25th July in a ceremony held at Biggin Hall. Part of it will be a Dragon's Den-style panel for people to pitch their ideas to.
Our new Diabetes and Coeliac group has begun weekly meetings at the Hub, from 1-3pm every Thursday. While the emphasis is on peer-support, One You Lifestyle Advisors are available for health checks, advice and support. Contact us for more information!
On Wednesday 18th July the Wellbeing Hub opened officially in Unit 16, to the right of the café. Run jointly by Folkestone Mind, Live Well Kent and Dover Big Local, this will provide groups and activities aimed at improving people's mental and physical well being. Please join Folkestone Mind staff on Tuesdays and Wednesdays for a chat about your ideas and requests.
Kids' Club* will run on Wednesdays throughout the summer holidays. It begins this week with a disco for under-11s at the Hub, from 6:30-8:30pm. Entrance is 50p per family, and refreshments will be available. Other events will be advertised here soon. Contact us for more information.
*please note, this is not an opportunity to leave children for part of the day – the emphasis is on families and at least one parent/responsible adult must attend with each family.
Also starting on Wednesday 25th July is the popular Cooking on a Budget course. This will run in the Hub from 3-5pm and is free to attend, but spaces are limited to 15 per course, so please register.
Our bimonthly Networking Forum was once again very well attended, with around 20 representatives from different community organisations exchanging project news and contacts (the list will be circulated among participants shortly).  The next one will be in September so watch this space!
We are considering opening in the evenings so if you want to run a group or activity on weekday evenings, please contact the Hub and talk to us about it!
Finally, as the school year ends, we would like to remind you that our Uniform Shop is very well used so please consider donating any clean items that your child will no longer need. We are open 10-4 every weekday. Thank you!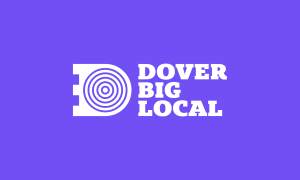 #7 June 27th 2018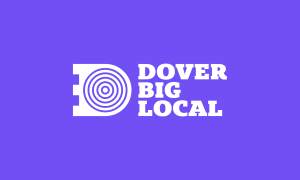 #6 June 22nd 2018
This month has absolutely flown by! Our new initiatives have proven very popular and we have more in the pipeline for July. More details in the next blog.
For the last week of June, 25th-30th, we have the following:
Monday 25th
Join us at the Hub for our second 1940s-themed Tea and Cake Social, from 10-12. Enjoy tea and cakes on vintage-style tea services with music from the era.
Luke from Dad's House will be available from 10-12 with advice on budgeting, mental health support, family law advice, buddying and coaching, foodbank and housing issues. You can drop in to see Luke without an appointment.
On Monday afternoon Digital Xtra will again run from 1-3. This is also a drop-in session to help people with online job searching, form filling, applications and day to day computer/internet use. It is quieter than the Tuesday Job Club and there are advisors on hand to help you.
Tuesday 26th
First Aid at Work level 3*
At this week's Job Club and Welfare Advice Clinic, Live Well Kent, Porchlight, the Community Warden, Shaw Trust, Dover District Volunteer Service and Southern Housing will be available, as well as the usual job search and internet support.
Wednesday 27th- Hotdesking Day.

If you are a community organisation looking for space to meet your clients, please contact us!
Thursday 28th
DBL Stitching Group will meet from 10-12 on Thursday 28th. The group work on a variety of community projects each week.  Beginners as well as very experienced knitters and crocheters are welcome. The group is free and and informal – just pop along!
A Prince's Trust advisor also will be available from 10-12 on Thursday.
Ritika's Bollywood Dance group meets in the Hub at 6. This week they will be rehearsing moves for their performance at the Multicultural Festival on Saturday 30th June. Don't be daunted, though – have fun and get fit for only £3.
The River Spirit Workshop is on again from 7:30-9pm. If you can spare some time to use a sewing machine and cut up fabrics that will become Lomea the River Spirit, please come along.
Also on 28th June the Repair Cafe will once again take place from 6:30-8:30pm in Biggin Hall. Fixers available include a teddy bear doctor and a plant doctor! Bring your clothing, electrical and ceramic items for repair and enjoy tea and biscuits while you wait.
Friday 29th
We are sorry that our Friday Coffee and Karaoke session is not running at the moment. Details of new activities will be available next month.
Saturday 30th
Dover Big Local will have a stall at the Multicultural Festival in Pencester Gardens from 12-4pm. Visit us to find out what we are about and how we can help you help your community.
*We are still enrolling for
This blog is also available as an audio blog on Dover Community Radio.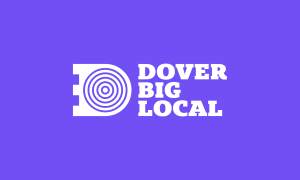 #5   12th June 2018
As expected, June got off to a quick start!
We have several new initiatives, and more in the pipeline.
The first is a fortnightly event, a 1940s/1950s Tea and Cake Social. This takes place on alternate Mondays from 10-12. Join us for a vintage style tea party, enjoy music of the era (and the Hub staff dressed up in 40s/50s outfits!), and meet new people! The event is aimed at anyone who is interested in the era or who just wants to enjoy a cuppa & cake served on a retro tea service! Some photos of the launch event are below this paragraph. Please come and join us at the next one on 25th June! No need to book or reserve – just turn up!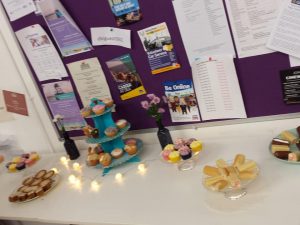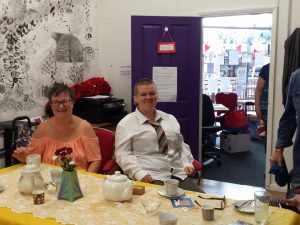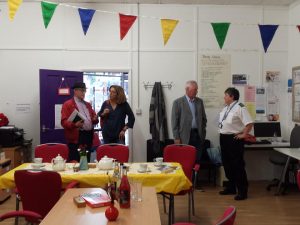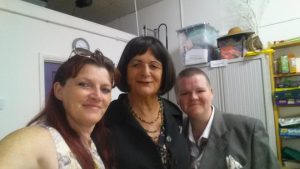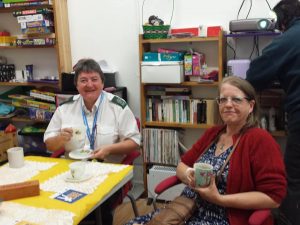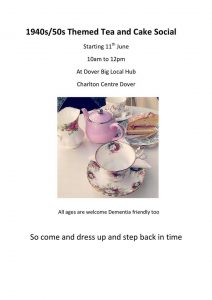 Our second new initiative is an add-on to the Job Club that runs on Tuesdays. This has now grown so big that it is difficult for staff to give everyone the help they need so we have started the Job Club Digital Xtra on Monday afternoons from 1-3. This is a weekly drop in session for those who lack confidence with online job searches, applications, form filling and digital CVs. Digital Xtra is delivered by Southern Housing, supported by Hub volunteers, and hosted by Dover Big Local. No need to book and, like the Job Club itself – the service is free!
Training continues with the last courses of the current cycle already underway. We are announcing new dates as we get them, and will produce a new course schedule when we have full detail. Watch this space! It was confirmed today that Food Safety Level 2 will run from 9-4 on Tuesday 26th June and another CSCS course will run on 26th and 27th July – again, from 9-4 both days.
We are very excited to be hosting the Pop Up Business School Dover for the second year. This is an intensive, week-long course that looks at all the necessaries for self-employment, funded jointly by Dover Big Local and Dover Town Council.
This week we are pleased to announce the return of Ritika's Bollywood Dance class (6.30-7.30 on Thursday evening £3 per person) and the third River Spirit Workshop from 7.30-9pm. The focus this week will be on lots of cutting in preparation for all the stitching and sewing!
The Hub will be open on Thursday evening while these two events are on so pop in!
Our School Uniform shop is busy and will only become busier as pupil finish for the summer. Any uniform that you would be happy to send your child to school in is gratefully received at the Hub during opening hours, which are 10-4 on weekdays.
Lastly, our collaboration with Dover Community Radio http://www.dovercommunityradio.co.uk/# continues with a shorter audio blog coming out weekly and  short reports on events and initiatives supported by Dover Big Local! The first blog and reports will air very soon.
For further information about anything mentioned or to suggest new ideas please pop in to Unit 18 in the Charlton Centre on the High Street, phone us on 01304 449385, email outreach@doverbiglocal.org or visit our Facebook page https://www.facebook.com/doverbiglocal/
That's all our news for now – but be sure to watch out for the next Blog!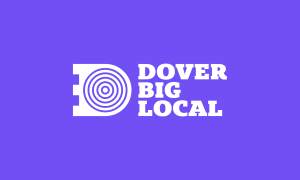 #4   29th May 2018
Hello Dover!
Wow – this month has brought a real burst of activity to the Hub!
On Friday 11th the Hub played host to local MP Mr Charlie Elphicke. Shaw Trust and Porchlight were working from the Hub that day, the weekly Friends Together group were doing karaoke – and yes, Mr Elphicke was persuaded to take the mic!
In the first half of the month we were busy preparing for not one, but two firsts – we held a Health and Wellbeing afternoon called Well You, which was to show what the Hub has to offer in this area. There were tasters of vegan and gluten free food, we had One You Lifestyle Advisors helping people with general health checks and smoking cessation advice. The Shaw Trust, Porchlight and Live Well Kent, and Dover Community Shed  were on hand to discuss the wellbeing services they offer.
Unit 16 was our mindfulness zone and in the atrium our first collaboration with Dover Community Radio took place, with two live presenters and a local singer. Watch out for the next one! Here is a photo round-up of the event.
Coincidentally, that week was Mental Health Awareness Week, Coeliac Disease Awareness Week and Vegan Week!
Our Community Development Officer Iva has begun two initiatives for the Roma community. She has worked hard to find out what the community needs and begun to deliver it. Young Roma enjoy the weekly after school club while their parents learn on the Healthy Cooking course. It ends with everyone sharing the delicious meal on that evening's menu!
The next event is the Open Day at the Hub. This will be on Wednesday 30th May from 11-2. It will be less of a celebration than Well You was, but a great introduction to who we are and what we do. Discover groups that run at the Hub, find out about grants available for projects to benefit the community and if you have ideas – bring them to us, to discuss how we can help make them real!
We continue to work in partnership with other community organisations. TWO Repair Cafes are being held this month – Kids' Repair Cafe  on 27th for toys, teddies, bikes, skates, scooters and skateboards to be fixed up for another summer of fun!; and the monthly meeting on 29th will be for electricals, ceramics, textiles, teddy bears and plants;
June will be busy, too – training continues on with Introduction to Retail from 13th and Confidence Building from 14th, and we are launching a fortnightly Tea and Cake Social for the over 50s starting on 11th June.
Watch this space as the Dover Big Local summer season hots up!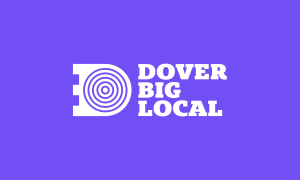 #3   30th April 2018
30th April 2018
We've had a very busy time recently!
On Friday 13th our Networking Forum brought representatives of 25 community and charity organisations to the Hub (Forum attendees 13th April 2018.) For some, this was their first visit to the Forum. We're sure it won't be their last and encourage as many organisations to join in as possible. Contact us for details.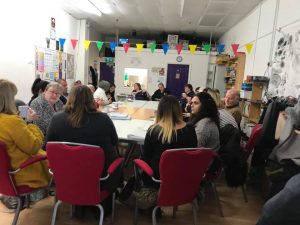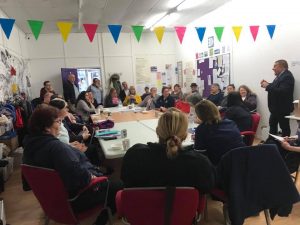 We have hosted a number of training events, including First Aid level 3 and Assertiveness; and Mental Health First Aid for front line staff at Dover Big Local, Emmaus and East Kent College.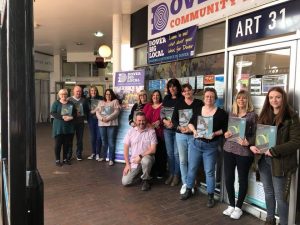 Tuesday Job Club and Welfare Advice Clinic continues to be very supportive to those seeking help with their job searches and benefits, housing, legal and welfare advice. Here is the   Copy of Advice clinics Rota.
Last Tuesday, 24th both the Volunteer Skills Day and the Repair Café took place in Biggin Hall. The next Repair Cafe is during half term and will focus on kids' toys – details here.
Work will soon begin on Unit 16, which Folkestone Mind will take over to offer their services; some of which will be in conjunction with Dover Big Local.
What's coming up?
The week ahead
Today (Monday 30th) we have had Dad's House in, Healthy Eating (fresh vegan/gluten free on a budget) and representatives of Dover District Council came to discuss a potential community development partnership with us.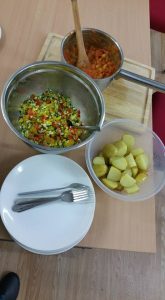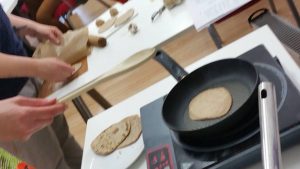 1st – 4th May:
Tuesday 1st –  Job Club and Welfare Advice 10am-4pm, with 7 professionals in to help you!
Wednesday 2nd  – Hot desking in the morning, Healthy Cooking in the afternoon.
Thursday 3rd – First Aid training at Level 3 9am-4pm. Full, but please contact us to go on the waiting list for the next course; DBL Stitching Group 10-12. Details of their fundraising and other activities are here DBL report april 2018
Friday 4th – Friends Together social group: chat, drink tea, play games, do crafts, sing karaoke.
We are excited to announce 'Well You', an afternoon devoted to the mental and physical wellbeing of Dover residents. It is free to attend and will take place on 16th May from 2-5pm.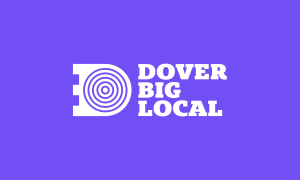 #2 11th April 2018
11th-20th April 2018
The Easter Fun Day organised by the Kent Wildlife Trust and Dover Big Local was a success, despite the rainy weather; as you can see in the photos!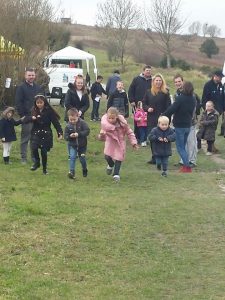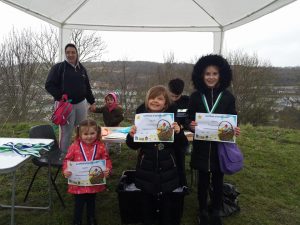 Last Thursday Ritika began her Belly Dancing/Bollywood Dancing classes. How often is something that's so much fun so good for you?! Join her on Thursday evenings at the Hub, from 6pm. £3pp.
Today we have been discussing plans for our Well You session which will take place at the Hub in May – details will follow soon! There has also been a steady stream of people in this week for  one-to-one support with Shaw Trust and Talent Match.
This Friday 13th is our bi-monthly Networking Forum. All charity and community groups are welcome – tell us what services you're offering and find out how others can help you! We begin at 12 with a buffet 'networking' lunch and from 12:30 the speakers take the floor. Contact us for more information/to register!
Next week (16th-20th April) we have Dad's House in on Monday, the Welfare Clinic Advisors on Tuesday are from Live Well Kent (Porchlight) and Southern Housing. We also have First Aid at Work Level 3 running on Tuesday in Biggin Hall and Assertiveness training on Wednesday from 12:30. Contact us for information!
Last, the third Repair Cafe is on again in 2 weeks – we look forward to seeing you there!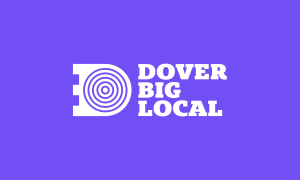 #1 26th March 2018
The Hub has been running for 2 years as a training, meeting and community venue. We host a number of groups that provide weekly community services; and courses and groups – there is so much happening that we want to keep you informed on a weekly basis.
The highlight of this week has been the second Repair Cafe with Future Foundry, Transition Dover, Dover Community Shed and Circular Kent. Around 30 people brought items that have now been saved from landfill – and saved their owners money!
We are closing at 4pm on Thursday (29th March) for the Easter weekend.
On Saturday we are joining Kent Wildlife Trust and the Dover Connector Programme at High Meadow Nature Reserve for  Easter Fun!  from 11-3.
The Hub reopens on Tuesday 3rd April for Job Club and the Advice Clinic 10-4, with representatives available from
Live Well Kent (Porchlight )
Housing Options (DDC)
One You Trainer
Town and Country Housing
Pam Brivio (District Councillor)
Universal Credit Advisor
Southern Housing
DBL Stitching Group meets again on Thursday 5th with their new spring projects and on Friday 6th there's karaoke and a singalong from 11 am, with crafts, chat, drinks and biscuits from 10-12:30.
Drop in or contact us to find out more!